Barnes & Noble
NOOK e-Book
There are MILLIONS of books available on Barnes & Noble's NOOK. If your book isn't one of them, you are missing out on tapping a very important, and growing, market of readers. Now you can you reach this audience that is already waiting to buy your book.


5 hours with a
Book Marketing Specialist


can really make all the difference Details
A word from two authors about our e-book services
You know, all Indie Publishers have different packages and different price groups. For me and Outskirts Press though, it has always boiled down to the people. People who make it happen and make your book look great when someone holds it in their hands or reads the Ebook on a screen - Front Cover Design, Back Cover Copy, and Interior Formatting. You guys always, always, nail it. And that... enables me to win.

Andrew Ceroni
It was exceedingly easy to publish on Nook, thanks to the professional people at Outskirts Press. It was very quick, I can hardly believe the way it was expedited! I am a very satisfied Author-and am pleased to be able to make my book available on Nook for my readers. I am going to place all of my books on Nook as soon as possible!

C D Swanson
Service Details
The Barnes & Noble NOOK is a revolutionary wireless e-reader that allows its owner to instantly download books and newspapers. Only books that have been submitted via the required process and format are available for NOOK readers to purchase and enjoy.
What does publishing on NOOK mean for you as an author?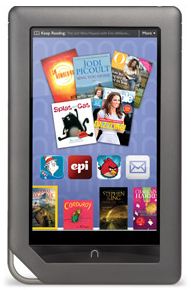 You will be publishing to the device that was named as CNET's "Editor's Choice" in 2010 and "Best e-Ink Reader" in 2011. These accolades are actively touted on Barnes & Noble's site as a promotional tool (to sell more NOOKs). It works. People are buying more and more NOOK devices.
By combining your book on the Nook eReader itself with availability on the iPad & iPhone, along with the PC markets, you not only can get your book into the hands of the millions of readers forecasted to purchase the NOOK device in the coming months. Add to that the 200 million+ iOS (iPad and iPhone) users and countless computer users and you get some critical exposure!
When your book sells, you keep all of your royalties. Barnes & Noble will still take their share, but your profit will be directly deposited into your checking account by Barnes & Noble, without any involvement by (or portion for) Outskirts Press.
NOOK books level the playing field. Because NOOK books normally have a lower retail price, readers are often more willing to buy books written by authors who may not be very well-known. Sections of your book will also be readable and available for display from the Barnes & Noble website for the paperback and/or hardback editions in the form of Barnes & Noble's Read Instantly online browsing service at no additional cost.
You will be in great company. Millions of books are currently published to NOOK. Doesn't your book deserve to be one of them?
It is recommended that all authors make their book available to as many different audiences as possible. That way - if a potential reader has one device, they are not prevented from purchasing your book.